If you're in the market for a spacious and upscale travel trailer that will bring supreme convenience and comfort on the road - we'd like you to meet the Airstream Globetrotter. This trailer has proven itself to be among the most popular Airstream trailers on the market, and it's not hard to see why it's a favorite of so many Wisconsin travelers.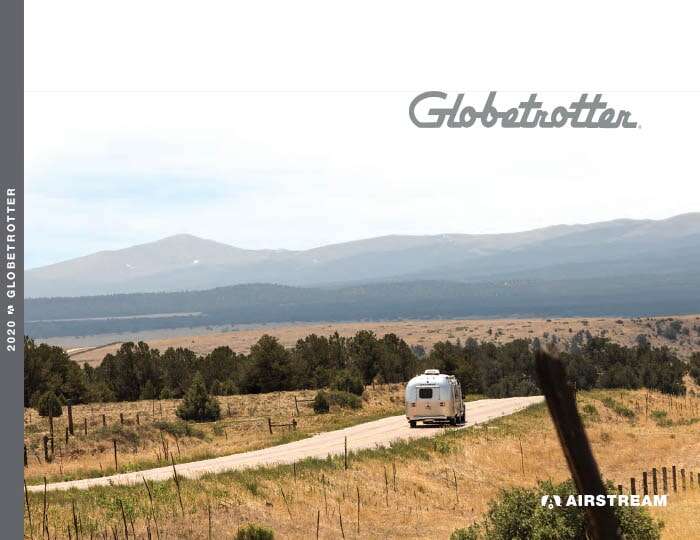 From the clean and crisp exterior design to its feature-packed interior, there's a lot to love about the Airstream Globetrotter. This trailer features the all-aluminum body construction that Airstream has become known for, so its quality and craftsmanship is immediately recognizable at a glance.
Ready to find out if the Globetrotter is the travel trailer that you've been searching for? Keep reading to learn about the impressive features and options that you'll enjoy when you take one home.
Interior Features and Options
The interior of the Airstream Globetrotter is the perfect place to relax and unwind after a long day on the road. When you step through the door, you will be greeted by a spacious cabin with enough room for 6 passengers to sleep and lounge in comfort and style. There are three different floorplan options available, each with its own unique layout. This way, you can select the one that best suits your lifestyle and the way you like to travel.
The Globetrotter allows you to enjoy impressive modern fixtures and appliances to bring all the comforts of home on the road with you. With stainless steel appliances, you'll feel right at home as you cook delicious meals on the road. With an available convertible dinette, you can make better use of space.
Just because you're away from home doesn't mean that you can't enjoy outstanding entertainment and technology. The Airstream Globetrotter offers plenty of the latest tech features to keep you happy as you explore the open road. With the Fusion Touchscreen Stereo, you can enjoy connectivity with Apple CarPlay, built in WiFi, and even SiriusXM satellite radio.
Exterior Design and Features
Take one look at the exterior design of the Airstream Globetrotter, and you'll understand why this is one of the most coveted travel trailers on the market. It features the aluminum build and construction that Airstream has become known for - giving it an unmistakable presence on the road. It's also loaded with all kinds of external amenities for you to make use of while you're away from home.
With a rear view camera on the back of the trailer, backing up and parking your Globetrotter in tight spaces will be much easier. There's also an available solar package that includes an interior monitor and pre wire kit - so you can stay powered up for longer when you're away from a power source.
Why Choose an Airstream?
Airstream trailers are known for many things. They offer an iconic and unique design that you won't find anywhere else. They're also highly regarded for their outstanding craftsmanship and quality. 70% of all Airstream trailers ever made are still on the road today, so you can feel confident that your Airstream will serve you well for years and even decades to come.
With an Airstream travel trailer in tow, you'll be ready for whatever adventures the road might bring your way. Additionally, Airstream trailers have a loyal and dedicated community that keeps resale value strong - so they're one of the best travel trailer investments that you can make! If the time ever comes for you to part ways with your Airstream, you'll be able to get a great price.
Shop Airstream with Ewald
At Ewald Airstream, we are proud to be Wisconsin's leading source for these incredible travel trailers. We believe in the quality and value that they offer for our customers. Whether you're seeking a large model like the Globetrotter or something more compact, our Airstream dealer is here to help you find it. We have a stunning selection of Airstream models in stock for you to consider, so finding one that meets your lifestyle and budget needs will be easy. We can even assist you with custom ordering an Airstream to fit your exact specifications. It's all possible at Ewald Airstream!
We encourage you to explore our inventory online to see what's available. This is an easy way to get a glimpse of everything that an Airstream for sale can bring to the table. Of course, viewing these trailers in person is an even better way to understand the value and features that they offer. When the time is right, head over to our Airstream dealer in Wisconsin. A knowledgeable member of our sales team will be happy to show you any model that interests you with a full tour. Bringing home the right Airstream for you and your family is easy when you shop with the experts at Ewald!